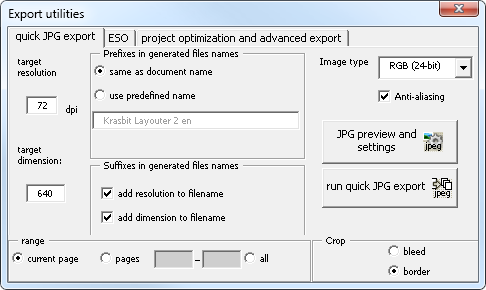 With use of this tab you can quickly prepare lots of optimized for preview and e-mail attachment JPEG files from your project. Output images created separately for every project's page will be saved in a new subfolder, where the source file resides of the project which is being currently edited. You can produce preview files to share with your client in seconds!
quick JPG export parameters
target resolution
Here you can set the output resolution for generated JPEG images.
target dimension
Here you can set target dimension for preview images.
keep aspect ratio
When this option is checked, then you will be able only to set a size of the largest side, the remaining dimension will be calculated automatically. You should use keep aspect ratio ticked if you wish to retain proper proportions for outputted images.
Note, that second dimension will be calculated on the fly while generating images for each page. This is done, because every page may contains objects which extends beyond the border of page, and thus affects total size.
When you export JPEG image form CorelDRAW®, with use of native Export command and had ticked selected only option, then outputted images will be stretched if selected objects extends beyond border of page. Krasbit Layouter quick export JPG with enabled keep aspect ratio option fixes this issue.
Sometimes the fixed size of final images is the point, regardless of whether the images will be disproportionately stretched, then uncheck keep aspect ratio option and set the desired and fixed dimension.
prefixes in generated files names
Here you can define prefixes used in file names for generated JPEG images. If same as document name option is enabled, then every generated images will get prefix from being edited document name.  If use predefined name option is enabled, then you may define other prefix within the input field placed below.
suffixes in generated files names
Here you can define suffixes used in file names for  generated JPEG images. You may add resolution and dimension to the file names. If you wish to do so - select proper checkboxes.
The color mode
Here you can set the color mode for generated JPEG images. You may choose one from this list:
Grayscale (8-bit)

RGB (24-bit)

CMYK (32-bit)
Anti-aliasing
Enables or disables useing of anti-aliasing for generated JPEG images.
Range
Here you choose a desired range (current page, pages FROM - TO, all) for which pages the generation of JPEG images should be processed.
Crop
When shape extends beyond the page border, it affects total size of being exported image. If you wish to avoid this issue, you may use cropping. To do so, select crop tocheckbox and one of method:
bleed - to crop to defined page bleed (CorelDRAW menu: Layout -> Page Setup -> Bleed)

border - to crop to border of the page
RELATED SHORTCUT ICONS

 JPG preview and settings
 macro: Layouter.previewJPG
This macro opens JPEG Export window for the active page. You may use it to set the additional parameters like JPEG compression and smoothing

 run quick exportJPG
 macro: Layouter.quickExportJPG
This macro generates a JPEG image for every document page and uses all the settings which was provided before.