Page 1 of 6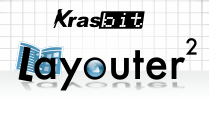 To celebrate an 10 years anniversary - 2017 Krasbit back again to DTP users with refreshed website and Krasbit Layouter version 2.0 - a set of macros for CorelDRAW. This version is compatible with all x64 release of CorelDRAW starting X6. It includes a lot of new features for batch import, export and image placement effects.
About Layouter
Krasbit Layouter is a group of VBA macros (Visual Basic for Applications and is intended to run in a VBA environment for the CorelDRAW®) which assist with working with shapes and bitmaps and support the process of making layout and prepress for advanced multi page publications.
Krasbit Layouter program is the property of KRASBIT Jarosław Kraska and is protected by copyright.
The author of Krasbit Layouter is: Jarosław Kraska