Press this icon on command bar: 

If you can't see that icon, make sure that you made installation and setup Krasbit Layouter toolbar properly.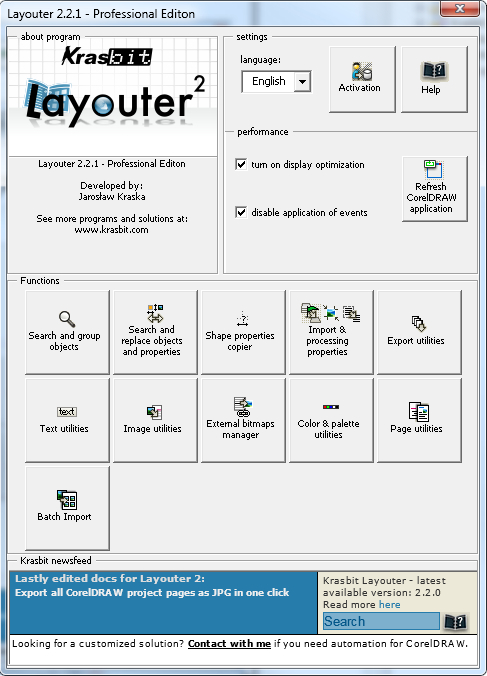 Settings
Language
Let you switch between UI languages. At this moment  English and Polish translations are supported.
Activation button
Let you open activation window, register serial number and activate or deactivate software.

Help button
Click to open this help file.
Performance
Turn on display optimization checkbox
If this settings is ON (checked), then program routines will be done with the best possible performance, without refreshing CorelDRAW® windows while processing. If this setting is OFF (unchecked), then you will occur slow down of performance but you will get possibility to trace what is done while processing instead. You can observe within CorelDRAW® Object Manager (if opened) what the shape on stage is processed on the time. If something went wrong during processing and macro stops at error while you had display optimization turned on - you should click on refresh application button in order to update view to valid state.
Disable application of events checkbox
Additional way to boost performance is when application events are disabled. This temporarily improve performance when performing routine operations. However use this wisely and do not disable events without serious reason as this may affect stability or proper work of macros that relies on events.
Refresh CorelDRAW application button

This macro can be used to force refreshing of all windows within CorelDRAW®.
Sometimes it happens that CorelDRAW® does not refresh properly its contents. On example - the Object manager list displayed will be empty or invalid. In addition, in the case of enabled turn on routines optimization option then if processed macro have stopped at error then you must force the CorelDRAW® to refresh all of its windows by using this macro.
If you have been using optimization and after processing macros your Object Manager docker is still blank, does not show any items, and Refresh button does not help. In that case try with select and move any object in project's page in any direction, it should help with forcing that docker to refresh.
Functions
This frame is grouping start buttons to all major windows of application. Once you click any of it - it will pop up another feature specific window that is specialized to work with images or text or shapes etc. You will find exactly same start icons to that dedicated windows at Krasbit Layouter toolbar that may be docked at CorelDRAW workspace.
Krasbit Newsfeed
This is mini browser that will display latest news from Krasbit website about Layouter. This is updates, tutorials, promotions or online help that you should try  if you cannot find enough information in this document.